Travel
15 Weird Inventions In Japan Will Blow Your Mind !!    
It cannot be denied that Japan is famous for its innovative technologies. Japan is the Land of the Rising Sun, which is known as among the best countries in the world when it comes to its technology development. Furthermore, they also have weird yet unique inventions such as the following:
Walking Fridge
Are you tired after a day of hard work? Then, you don't need to get up since the walking fridge will come to deliver your favorite drinks. With the help of the walking fridge, you can now get an ice-cold beer wherever you are seated. This invention is inspired to offer you with a great level of convenience. What makes the walking fridge unique is that it can show you about the status of its contents. Additionally, it will take your dirty dishes back to the sink that can make you smile.
Selfie Stick with a Microphone
Japan offers you with a more innovative selfie stick that you have never seen before. We are talking about their selfie stick with an integrated microphone. It can be used to record videos while you are singing. It is a weird but extraordinary invention.
Push-Notification Glasses
With the help of the push-notification glasses, you don't have to check your notifications on the screen of your Smartphone. Thus, it will show you in front of your eyes if there are notification or texts for you. Moreover, you can also use it for setting tasks and other notices. This glasses utility can be customized according to your desired color and notification type. It comes with audio notifications when the colors can distract you.
Butter Grater
With this latest invention, you can experience convenience and butter a toast easily.
USB Mini-Washing Machine
A mini-washing machine inspires the new, unique look of this USB. It can be plugged to your computer and can clean waterproof watches and glasses as you work. The cleaning process can be completed in just 2 minutes.
Flying Umbrella
With the help of Asahi Power Services, you will no longer experience troubles with this Japanese invention. The flying umbrella is developed to oppress the use of the hand for holding umbrellas. It uses artificial intelligence for hovering above its owner as they go on their everyday business. This device is considered as the most over-engineered solution for the main problem that we can see.
The Head Umbrella
The head umbrella is a legendary invention in Japan. It is a practical headwear that is used for many years until now. Since Japan is prone to typhoons and frequent rains, they develop different umbrellas like this. It is useful and hands-free. You can also pick the best design that matches your taste and personality.
Eye drop Funnel Glasses
The eye drop funnel glasses are developed for pupil-point accuracy. With this invention, the Japanese don't need to worry about inaccurate eye drop deployment. With this technology, you can never waste eye drops again. If you use eye drops regularly, the eye drop funnel glasses is the best for you.
Toilet Cisterns with Sinks
Toilet-sink combination cistern is among the old Japanese inventions. It exists for more than half a century. However, it is not popular all over the world. This invention has a simple principle. The wastewater from the sink can drain to the toilet's cistern that will be used as you flush the toilet. It is a practical way of conserving water. If you are an economic-conscious person, this invention can be the best option for your home.
Bubble wrap Keyring
Are you feeling down, tired, or stressed? Then, Japan's Bubblewrap keyring can help you. As you feel little stressed, you can pop the sheet of bubble wrap to calm yourself. Some sheets of Bubblewrap are limited, thanks to Bubblewrap keyring, you can enjoy unlimited popping of Bubblewrap. It is handy and always available if you need them. The Bubblewrap keyring is the solution to divert the stress and tension that you feel.
Karaoke Muffler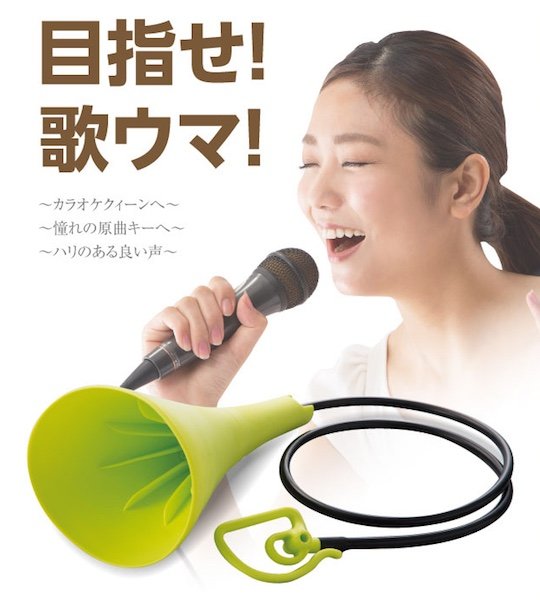 If you are shy while singing, the Karaoke muffler is the best partner for you. This technology is compatible with Wii U, PC, PS3 and Wii. It can make you belt out a tune wherein no one can hear you. It can reduce noise levels by about 70%. You can enjoy singing with this device, especially if you are conscious of how you sing.
Scratch T-Shirt Battleship Inspired
This battleship inspired scratch T-shirt can help you direct to the exact location with the use of the small handheld indicator. It is the perfect technology if you suffer from chronic back itch.
Chopstick Fan
Japan's chopstick fan is the best for noodle lovers. The small fan on the chopstick can cool down your noodles. With this, you will not wait long hours to cool down your food. If you are a busy person and want to save time while eating, the chopstick fan can significantly help.
Overpriced Shaped Melons
With their overpriced shaped melons, you can grow your melons in different shapes. Among their popular forms are the cubed-shaped. If you're a fan of Pokémon or anime, this invention is for you.
Floor Cleaning Baby Grow
With this parent labor-saving device, the door will remain span and spick. It is amazing to know that with the floor cleaning baby grows, your baby can help you to do the floor cleaning. At an early age, babies can help you in some household chores with this technology. You don't have to worry since this Japanese invention is safe to use by the babies.
Conclusion
To sum it up, these weird inventions in Japan will genuinely amaze you with its excellent features and performance. These inventions are also perfect gift ideas for your loved ones. These more innovative technologies are proofs that Japan is one of the best countries when it comes to technology development. Their technologies are made with exceptional quality to ensure its fantastic performance for the satisfaction of the users.